Products
Translucent laminated plastics
Description
Translucent laminated plastics made up of glass fiber reinforcement and polyester resin unsaturated with a 10% weight of methyl methacrylate and a 0,2% weight of UV rays absorbent.

The proportion of resin with regards to the glass fiber reinforcement is 2,5 times to 1. In order to offer extra resistance, a 28 g/m2 protective covering, impregnated with 150 g/m2 of resin, is incorporated. The translucent plastic plates are an economical and lasting option when one seeks to include natural light to a space. Their low weight, easy transportation, and quick fitting are their principal advantages. This makes them an efficient solution and adaptable to all your projects. They are ideal for industrial units, sports centers, swimming pools, green houses, storage facilities, supermarkets, chemical plants, refineries in other uses."
Technical data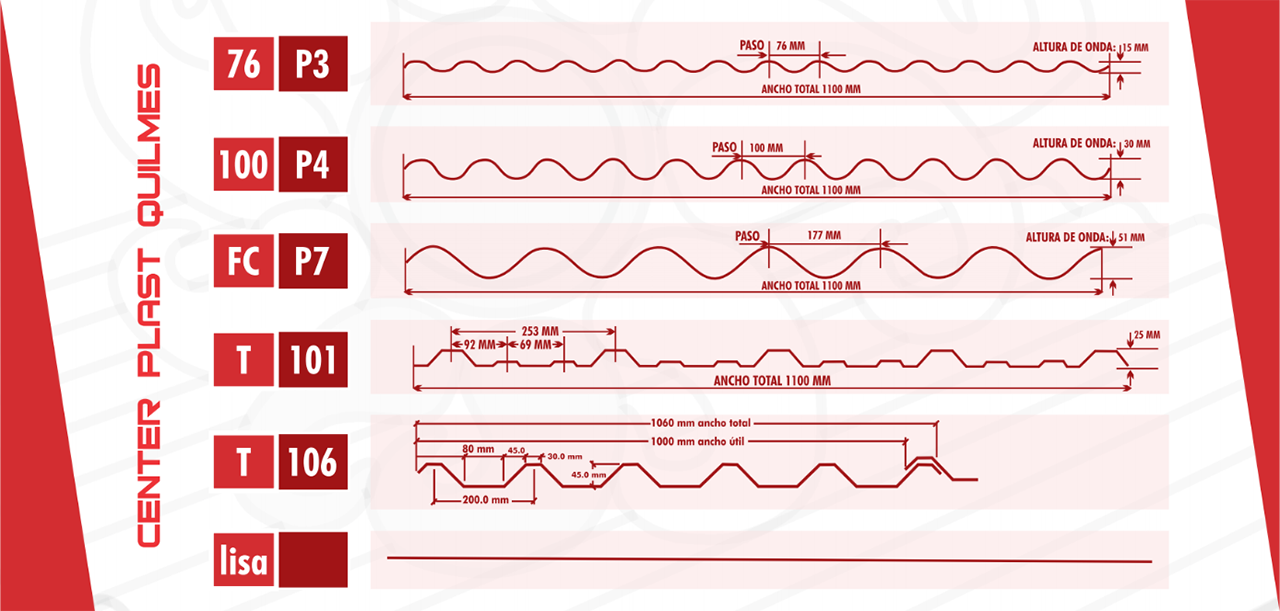 | Resistance and Colors | |
| --- | --- |
| Reinforced | 0,8mm |
| Extra Reinforced | 1mm - 1,2mm |
| Premium | 1,8mm . 3,5mm |
| Colors | Natural, White, Green |
| Colors with previous order | Yellow, Orange |
| CONCEPT | RULE ASTM | VALUE |
| --- | --- | --- |
| Compression resistance | D-638 | 70-90 Mpa |
| Traction resistance | D-638 | 70-90 Mpa |
| Flexion resistance | D-790 | 120-140 Mpa |
| Light transmission | D-1494 | 85-90% |
| Specific weight | D-790 | 1,4 gr/cm3 |
| Water absorption | D-570 | 0,2% |
| Glass fiber percentage | D-2586 | 30% |
| Barcol hardness test | D-2583 | >40 |
| Flammability | D-635 | >6 cm/min |
| Usage temperature | - | -40 +80°C |
| Light transmission | |
| --- | --- |
| Natural | 85-90% |
| White | 60-70% |
| Green | 60-70% |
Table values related to a 1mm material, as illustration, being able to be modified without previous warning.
Anti-corrosive
The laminates are protected against the degradation that occurs in environments with low concentration corrosive gases.
Self-extinguishing
We have developed a line of products that is flame retardant. It is manufactured with a special resin which turns the plates into self-extinguishing ones. That is to say, they have the ability to stop burning once the source of the flame has been eliminated and thus preventing the flame from spreading.
ENERGY SAVING
Energy saving is one of the most important worries worldwide, therefore natural lighting is one the most sustainable answers to this problem.
TEMPERATURE VARIATION
The plates are suitable for extreme weather conditions. They endure low temperatures without becoming brittle, and up to 80°C without any kind of inconveniences.
EXTRA RESISTANCE
Our manufacturing process incorporates a protective covering which guarantees, along with the resin, more resistance. Unlike the laminates with superficially protected sides, the covering is immersed which stops it from detaching as time goes by.
UV PROTECTION
Our translucent plates are manufactured with unsaturated polyester resin additive with ultraviolet ray absorbent, which gives it a more resistance against aging and thus more durability.
COUNSELING
All the CENTER PLAST laminates are easy to install. We have specialized personnel available for technical counseling during the installation, who take into account each of our clients' needs.
HAIL RESISTANCE
PREMIUM line: Being made up of two materials (resin and glass fiber) it possesses more impact resistance as opposed to other laminated plastics, which are usually more flexible, such as polypropylene and polycarbonate.
• WE MANUFACTURE CUSTOMIZED PROFILES •