Products
Resin polyester laminated plastics reinforced
Description
Resin polyester laminated plastics reinforced with glass fiber and a layer of gelcoat which gives them a smooth and shiny esthetic.

These laminates are manufactured in a continuous way and especially designed to withstand the outdoors, blows, and chemical attacks, situations in which other kinds of products tend to lose their paint or deteriorate.

A principal characteristic of glass fiber, besides granting resistance to the laminate, is its thermal/electric insulation, the fact that it doesn't undergo a rusting process and its low weight as opposed to other laminated plates. Its rough surface on its back is useful for injection and gluing.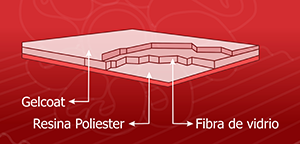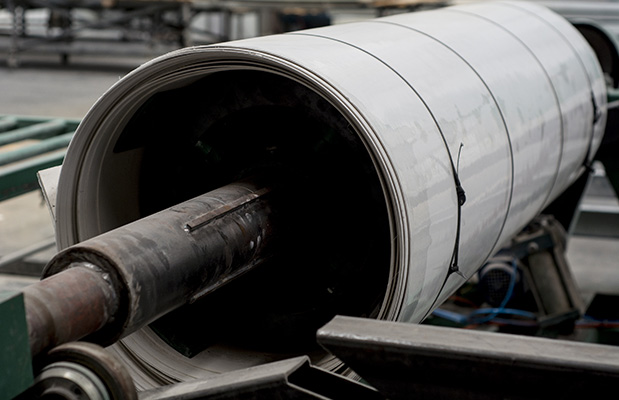 Technical data
| Thicknesses | |
| --- | --- |
| Reinforced | 1,8mm - 2,0mm - 2,5mm |
| Colors | White - Natural |
White / Natural colors
| TYPE | R | ER | P |
| --- | --- | --- | --- |
| Character | Gel coat finish UV protection | Gel coat finish UV protection | Gel coat finish UV protection |
| Thickness | 1,8 mm | 2,0 mm | 2,5 mm |
| Glass fiber reinforcement | 600 g/m2 | 900 g/m2 | 1050 g/m2 |
| Weight | 2,8 kg/m2 | 3,14 kg/m2 | 3,61 kg/m2 |
| Impact resistance | 280 J/m | 350 J/m | 390 J/m |
| Break stretching ASTM D638 | 2,40% | 250% | 260% |
| Traction resistance ASTM D638 | 111,5 kgf | 135,0 kgf | 160,0 kgf |
| Traction unit ASTM D638 | 2560 mpa | 2886 mpa | 2951 mpa |
| Flexion resistance ASTM D790 | 93 mpa | 111 mpa | 112 mpa |
| Elasticity flexion unit ASTM D790 | 4362 mpa | 5196 mpa | 5481 mpa |